Client Testimonials
Get Inspired, Get Results.
Alan Walsh, Post-Graduate Teaching Fellow, Trinity College

| | |
| --- | --- |
| | |
| Coming Soon | Coming Soon |
I joined Fitness Together in August 2015 with pretty simple goals - - lose some body fat and improve my general fitness. However, over the past year I've achieved something far bigger… a love for working out. Getting fit, at least for me, wasn't going to be easy.
Beat up knees, a fondness for nights out and a million excuses at the ready for cold mornings meant that I knew I needed to try something a bit different, which was how I came to Google personal trainers and find Fitness Together. Right from my first session, every workout has been enjoyable and challenging. Mark and Will have taken me from learning how to perform simple bodyweight and barbell exercises through to learning Olympic lifts, balancing (and exercising) on my hands and playing on gymnastic rings. It hasn't always been easy. It has taken time, effort and consistency. However, with the knowledge, help and support of Mark, Will, Carl and all the team at Fitness Together I have been able to surpass all my initial expectations. To anyone wanting help to achieve their fitness goals (no matter how big or small) I couldn't recommend Fitness Together highly enough.

* Results may vary from client to client depending on exercise, nutrition and lifestyle choices.



Lorraine Griffen, Digital Marketing Consultant
| | |
| --- | --- |
| | |
| Lorraine Enjoying The Outdoors | Lorraine Enjoying a Long Earned Rest |
I have never been a gym fan – in fact I'd never even held weights or used any gym machinery before I signed up at Fitness Together. At first it was a treat to myself – I had just taken redundancy from corporate life and was about to set up my own business so I wanted to feel physically and mentally stronger. I booked a course of 12 1-1 personal fitness sessions and set myself a goal to tone up and lose some additional weight. What a revelation! The first few left me aching but pretty soon I was seeing results so I was determined to keep going. One year later and I've definitely noticed major changes – am fitter, more confident in the gym, I've more energy and I'm generally more toned all over.
The Trainers Are All Lovely, Really Know Their Stuff, And Make The Sessions Challenging But Fun.
I've worked with a number of the fitness trainers and found all of them really professional and knowledgeable, not just about exercise and fitness but also about posture and nutrition. Over the past few months I've been working out with John and he's brilliant. So encouraging and he also brings an element of fun to an often tough session. He's a total professional and mixes up the routine each time so there is variation and I'm learning new skills as we go. I've come from someone who only ever walked as exercise to someone who looks forward to that stroll to Ranelagh for my sessions. I would highly recommend Fitness Together for anyone who wants to increase their fitness, tone and condition and lose weight. The trainers are all lovely, really know their stuff and make the sessions challenging but fun also.
Lorraine Griffen
*Results may vary from client to client depending on exercise, nutrition and lifestyle choices.
Michele Goode, Dublin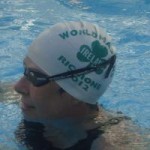 Michele competing at World Masters
April 2010 was a turning point in my life. Swimming is my passion but despite training 3 times a week, I was overweight, my back was sore and my diet was terrible. I called FT, spoke with Carl and I've been training with the fabulous John and Stephen since then. I like to train hard and have a laugh and the boys facilitate that in spades. They are professional, know my limits and abilities better than I do and NEVER let me throw in a sneaky break or short cut! Carl keeps a close eye on my weight and diet and taught me to think before I eat. Similarly, he knows all the excuses!
It's been a year of personal highs and lows. I lost 34 pounds of fat, my swimming improved and my back feels great. I qualified for the World Masters Swimming Championships in Italy! This, against the backdrop of my Fathers long battle with illness. Sadly he died 3 weeks before competition but during that difficult time, the FT team provided the right balance of support, motivation and training to get me through. I went to Italy, swam personal best times and carried my form through to the regular sea swimming competitions at home. I feel better, fitter and stronger than I've felt for a long time and I'm smarter about the foods I eat. I'm so grateful to the FT team and I can't recommend them highly enough.
Michele Goode, Dublin
*Results may vary from client to client depending on exercise, nutrition and lifestyle choices.
---
Amy Huberman, Actress/Novelist
Amy Training For The Mini-Marathon
I joined Fitness Together almost three years ago and I can honestly say it was life-changing. Before I joined I was nearly allergic to exercise, going for a brisk walk, or attending the odd, very infrequent yoga class was about as far as I was willing to push myself. I'd also convinced myself that I was just not a sporty person so what was the point?
When someone suggested I join Fitness Together, I thought I was going to hate it, but within a few short weeks I ended up loving it! Unlike a regular gym where you would be left to your own devices, you get personalised one to one training in Fitness Together, which I have found invaluable! The trainers are so enthusiastic and supportive and genuinely care about your progress and general health. Their enthusiasm is infectious, and once you really start noticing the difference it's difficult not to get enthusiastic about it too.
Amy Going Through Her Paces at Fitness Together
The trainers are so enthusiastic and supportive and genuinely care about your progress and general health.
For me personally, it wasn't really a weight issue, although I did certainly drop a few pounds when I started, it was far more about feeling fitter, stronger, healthier and more toned. It had such a positive knock-on effect in my life that I really couldn't imagine not having it! It helped me address my overall well-being, my diet and even my posture. It is also the greatest motivator in the world to be booked into a fitness session, knowing you can't really cancel and let the trainer down, so it really is a brilliant incentive. If it was left to me to go the gym off my own bat I would honestly never go! Thanks to all at Health & Fitness Together for your encouragement, support, and enthusiasm.
Amy Huberman
*Results may vary from client to client depending on exercise, nutrition and lifestyle choices.
---
Niamh McCarthy, Mum, Wife, Business Owner and Friend
Niamh Enjoying a Well-Earned Rest
I joined Fitness Together for a 12 week package four years ago. It was meant to be a kick start package to get me to increase my fitness levels and to try something different. I had been a member of various gyms over the years and I felt coming up to the big five 0 that I would try something different.
Niamh Putting in an Early Morning Run
The standard of training is excellent
After the first few sessions I was hooked. The standard of training was excellent. There is no room for slouching when you are having one to one sessions. The sessions were hard work but great fun. As the 12 weeks passed I felt I could only improve so joined for another 24 sessions and I have been going ever since! It has kept me sane in a difficult job, increased my fitness levels and completely changed my attitude to exercise. I now exercise pretty much every day and also on holidays.
As a result of the great training at Fitness Together I get up every day with more energy and a positive attitude to life due to the enormous benefits that exercise bring.
I cannot recommend FT highly enough.
Niamh McCarthy
*Results may vary from client to client depending on exercise, nutrition and lifestyle choices.
---
John Walsh
Connemara Adventure Challenge, Cycling
I'd previously played rugby and did a bit of running so was reasonably fit before I joined Fitness Together. However I found that training on my own in gyms either didn't suit me or I didn't feel I was getting the optimum benefit from it. I joined Fitness Together for an initial 16 session trial and was impressed with their approach and delivery. A specific training program was laid out for my requirements, it was flexible when I could do the sessions, all the instructors were knowledgeable and attentive and my progress was assessed on a regular basis.
Connemara Adventure Challenge, Mountain
The key benefits in my opinion were is there is much greater motivation to push that bit harder in a one on one situation, you know you are doing all the exercises correctly and all the sessions were slightly different, while focusing on the same muscle groups. I was impressed with the results and signed on for another 32 sessions. I would highly recommend Fitness Together for people at any level of fitness to either get fit or increase strength/flexibility if already fit. It's not cheap but in my opinion for the results I achieved it represents very good value for money.
I would highly recommend Fitness Together for people at any level of fitness.
John Walsh
---
Fiona T, Fitness Together Client and Business Women
Before Training With
H & F Together
After Training With
H & F Together
I had hit a significant plateau for six months after losing the initial 40 lbs on my own. Fitness Together broke that plateau and it really started coming off quickly! I am down 16 dress sizes. I am most proud to carry my "before" pictures (I never am without them) to encourage others and show people it can be done.
Fiona T
---
Paul MacNally, Fitness Together Client of the Year 2009
Paul Before Training
With H & F Together
Easy Tiger!
I was fast approaching the big four 0, and somehow my eating and body were all out of shape. I had used personal trainers in the past and decided to seek out a new one. I hated gyms and personal trainers who were always late or never showed and left you waiting. I 'googled' personal gyms and found Fitness Together, emailed and set up a free trial.
I was over 18 stone when Carl and the team met me, they passed no judgement and assured me 'it' would disappear. My goal was simple…lose weight!!
They assessed my fitness level, body fat, heart and lung function, blood pressure, flexibility and other health indicators before we began training. This is also used to judge how I progressed over the coming months.
I trained with Niamh, 3 times per week. Over the next couple of months we focused on cardiovascular fitness, weight training and diet. The weight started to fall off! And it is still coming off…I am now just over 13 stone…!
The team at Fitness Together act just as that, everyone is interested and shows genuine caring on how each member progresses. There is a focus on long term change, not the quick fix. So you are never alone.
I feel part of something bigger than just training and working out, it has been a life journey of change for the best. Carl, Niamh and the whole team have helped me through it every day and are available to give professional advice on all aspects of health and fitness.
Thank you to the whole team!
Paul MacNally
---
Oonagh Kearney, Fitness Together Client of the Year 2010
| | |
| --- | --- |
| | |
| After Winning Client of the Year 2010 | Working Out at H & F Together |
Oonagh joined fitness together in February 2010. She came with very specific goals. She wanted to lose some weight but more importantly improve her overall fitness levels. Work had been very demanding over the last 5 years but she now had an opportunity to put the time and effort in. Oonagh's results were incredible. She lost 21 lbs in overall weight, dropped her body fat percentage by 7%, doubled her cardiovascular endurance, improved her strength by 110% and flexibility by 7 inches.
I joined Fitness together in February 2010, my goals were to lose weight and get fit. After 6 months of very hard but very enjoyable training and sensible eating I have made excellent progress, I have lost the weight and gained the fitness that I was aiming for. I train with Declan 3 times a week, he is a superb trainer, he is very encouraging and pushes you to do more in a very supportive way; the sessions are fun, varied and hard. Carl and all the trainers are very encouraging, helpful and take a very keen interest in how you are progressing. I highly recommend Fitness Together, it offers a very professional, encouraging and fun environment to get fit and healthy. I am planning to continue training with Declan to work on improving my % body fat and maintaining my weight and fitness.
I highly recommend Fitness Together
Update: 16th February 2011
Since Oonaghs last full assessment back in October 2010 she has split her training time between Fitness Together and training on her own. We did a Full Fitness Assessment today and I am delighted to report Oonagh is still progressing; her overall weight is now 145 lbs, down 30lbs and 24.2% body fat, down an incredible 10% points.
She has now reached her ultimate goal and can spend time now enjoying the benefits of maintaining a healthy lifestyle.
Oonagh Kearney
---
Clementine Farrell, Client of the Year 2013
Clementine Showing Perfect Form
Clementine has been training at Health & Fitness Together for the best part of 1 year. Her goals were to lose weight and get fit. She is an inspiration and an incredible example of what can be achieved through a little discipline and consistency. Clementine has achieved all the goals she set out for herself. Her fitness levels are way above average and she now enjoys great health, energy and the optimum dress size.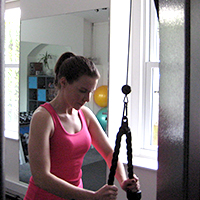 Clementine Working The Triceps
What Clementine has to say about Health & Fitness Together
I joined Health & Fitness Together in August 2012 as I was making a big career change and wanted to take control of my fitness, or lack thereof, at the same time. I had never been very good at sport and had always gone through phases of exercise. I have suffered from back problems for a number of years which had always put me off pushing myself too hard and I had never gotten the kick or high from working out that people always talk about. All of these factors meant that anytime I became too busy, working out was the first thing I'd give up.
I can honestly say that joining Fitness Together has totally changed my life! I reached my goals of losing weight and achieving a level of fitness I had honestly always believed was for 'other people'. Best of all, my back pain has been relieved and I feel better than I can ever remember. The most surprising thing has been discovering a love for exercise and fitness which I had previously given up on!
I love my sessions and really look forward to going – something I never would have believed after struggling through my first session! Carl and his team of trainers are the best; they really made a huge effort to get to know me, my reasons for joining Fitness Together and understanding my personal goals.
it has given me a huge boost to my confidence and provides me with the complete mental break that I need!
As part of my fitness plan I train with John twice a week. He is an incredible trainer whose enthusiasm and passion ensures my sessions fly. The difference between FT and a standard gym membership is that no matter how busy I am I have to show up for my session as I know that John will be waiting for me and that added pressure of not wanting to mess him around or let him down means you can't make excuses. During our sessions John really pushes me and ensures I don't slack off but is always cognisant of my lower back.
I would honestly encourage anyone to join FT. I cannot recommend the trainers and the facilities more highly. While some people may feel that paying for a trainer is too extravagant, I really feel there is no better investment you can make. By sticking with the programme, turning up when I couldn't think of anything worse and pushing myself during sessions has paid dividends – it has given me a huge boost to my confidence and provides me with the complete mental break that I need!!
Clementine Farrell
*Results may vary from client to client depending on exercise, nutrition and lifestyle choices.
---
Rebekah O, Dubuque Resident and Professional
| | |
| --- | --- |
| | |
| Before Training With Health & Fitness Together | After/During Training With H & F Together |
For about 3 years I was pouring my heart into a job working anywhere from 60 to 70 hours per week which turned into eating a lot of junk food, not spending anytime to care of myself, and gaining a lot of weight. The problem wasn't that I didn't know what to do it was that I didn't have the accountability, discipline, and motivation to follow-through with what I knew. The other problem was that going to a regular gym was completely unattractive to me.
Then I discovered Fitness Together and it all came together. FT had expert trainers who really cared about my health and pinpointed my fitness and nutritional needs. They also gave me that accountability that was always missing as well as a close family atmosphere that made me feel I didn't want to let the trainers as well as myself down.
FT had expert trainers who really cared about my health and pinpointed my fitness and nutritional needs.
Rebekah O
---
Lisa Cannon, Presenter TV3 'Xpose'
| | |
| --- | --- |
| | |
| Lisa Cannon Warming Up | Lisa Cannon Working Out at H & F Together |
'Another year over and a new one just begun'…. The lyrics of the song from John Lennon rang through my ears as I looked down at my rather large pot, post-Christmas gorge belly and sighed. This has been a long pattern for the last number of years and I was determined that 2011 was not going to beat me with the all too familiar disappointment of starting a 'diet' only for it to fail in February. Granted, I am on Television and I probably should be according to the ideal ….slimmer, but I ain't! I have what I like to fondly call the Irish Rubenesque Figure or what my Mum used to call it, The Milkmaid! Yes, I have the quintessential curvy figure and for years because of my height and my large chest, you often can look portly or perhaps pudgy! Eitherway, I have, like many battled with my weight, whether it was over indulging at Christmas or on Holidays or just in general, to the Monday diet of 'No carbs til Saturday!' only to falter on the Tuesday and retreat into a haze of pasta and toast slathered in butter!
No doubt, I LOVE my grub and it has to be said so does everyone else. But it has taken me YEARS to find out that because I am petit 5ft 3' I can't afford to carry too many extra pounds and not only can the Milkmaid effect take full flight but more importantly I wasn't too happy about the extra muffintop either! So, when 2011 rolled round I decided enough is enough and I sought the help of Carl from Fitness Together who has put me on the straight and narrow. I can safely say that I have boxed my way to a fitter me, healthier me and all round happier me. I started boxing twice a week and it's made me feel like a female Rocky, cue music!.... So although I am on the TV and can see myself back, I now don't recoil with horror, Its kinda ok what I see, wobbly bits and all!
I can safely say that I have boxed my way to a fitter me, healthier me and all round happier me.
I found that exercising with Carl and the team over the past few weeks has given me a lot of confidence. I am more aware of what I put into my body and take my health more seriously. I have come to understand my limits physically and have seen a DRAMATIC difference in my shape and stance and posture. I know that there are people like me that loathe exercise especially when you have to drive 45mins out of your way to do 1 session ( Hello!) but I pushed myself and didn't give in in the February like so many years before, this year was different for some reason and I'm now onto April… Yippee!!
I think it's that the team are so wonderful, they care and respect you. They are not easy on you, but it's fun, energetic, kick some ass kind of exercise and Carl really makes you believe you can do it… and you can just like me!!
One of my favourite pieces of inspirational and motivational quotes for 2011 is…' The only people who never tumble are those who never mount the high wire. This is your moment - Own it!'
Lisa x As they say in Showbiz – Break a Leg!!
---
Ibrahim, Fitness Together Client
Due to the nature of my business, I work long hours when in Dublin, travel regularly out of Ireland and only eat when I have time but not when I am hungry. This led to a huge increase in weight of approx. 20 kg. Upon returning from a 3 week business trip in November, what drew the line in my weight gain was when my trousers split on my new Hugo Boss suit at a wedding of a friend. Furthermore, going upstairs and normal activities had become more difficult and my asthma had also kicked in.
This is when I came to the realisation that I needed to do something about my weight gain and I did. The following week I joined Fitness Together and everything changed since then. Within three months, I have lost 9kg and reduced my overall body size including 7cm off my waist.
I have lost 9kg and 7cm off my waist
The Team at FT are great and they always make working out exciting and new, as they mix up the training to ensure I never get bored, which I do easily when training. Upon leaving FT, I return home pumped and ready for more. The team are fantastic and are always willing to listen and advise when needed. I am always pushed more and more to excel and beat my own records and I can truly see the results.
I am writing this while on a train abroad and even when I am travelling, I am more consciences about my eating habits, whether the timeliness, quantity and quality of the food I eat, as per the advice of my trainers. Also, I actively make time for training and have plenty of workouts that I can do alone with no equipment while away, thanks again to my trainers. I feel great, friends and family are complementing me on the weight loss and muscle gain.
Thanks FT, Ibrahim
---
Robert Clarke, Referee
Hi Carl,
A short email to say many thanks on the results you and all your fitness instructors help me achieve. As you may remember every training session I completed (approx 20) was geared towards my FAI fitness assessment in March. It was based on my weight but more importantly my body fat %. I was just over 15.9% in August 2012 and a target of 14.0% (and below) was set for March of 2013. I am pleased to say I have been measured in at 11.3% which is well beyond the target that was set for me. All other physical tests have been passed with flying colours. Again more credit is due to Fitness Together for improvements in all of these departments.
Many thanks for the results
I'm not going to say the training was easy because it certainly wasn't. December and January were tough months trying to complete all of the training sessions, I have the heart-rate monitor and graphs to prove it. But the targets were set and your fitness instructors made sure I was going to meet them and I am getting the rewards now.
All I can say again is, I am very grateful for all the help that I got from you and everyone at Fitness Together.

Kind Regards, Robert Clarke
---
Colette O'Shea, Civil Engineer



Hi Carl, Just wanted to drop you a quick email to say a huge THANK YOU. I had my last session last week, I have to admit that I didn't believe you that first night in Rathmines (almost 3 years ago now!) when you said I'd be able to get fit without dying in the process!! Things had drifted so much at that stage because of the previous few years that it seemed so impossible. But somehow we managed it, which is a very difficult feat, when you take my stubbornness into account!!
I actualy ran a 7k at the weekend. Despite all my moaning I've had so much fun. Its been such a laugh. Lots of pain too, but somewhere along the line that became fun too - never ever thought I'd say that!! I actually ran a full 7K at the weekend for the first time, Im so delighted and amazed that I actually did it (although it did almost kill me, but only "almost"!!) I never would've gotten here without you and all the guys at FT!! Plus the 61lbs that I lost along the way was a pleasant side effect.
Anyhow thanks for everything - the support, advice, everything!! Fingers crossed I can keep it up in the big bad world without FT, scary. I hope the business keeps going from strength to strength for you and you never know I might be back yet! Thanks again!
Colette O'Shea
*Results may vary from client to client depending on exercise, nutrition and lifestyle choices.
---
Derek Hughes, Co. Dublin
I would highly recommend Fitness Together for anyone who wants to lose weight, get in shape and improve their health, but doesn't know where to start. Carl and his trainers will help you develop an exercise and nutrition program that you can live with and fits in with your lifestyle and schedule. They educate you in the basics of exercise and nutrition and give you the building blocks for creating a healthy lifestyle. They will point out what you are doing right and what you need to change, but in a non-threatening, non-intimidating way. These are Personal Trainers who really care about the client and helping them achieve their goals.
Derek Hughes
---
Michelle, Dublin 6
After some years of trying and failing to "get back into shape" I had almost resigned myself to the idea that it simply was not possible - an insurmountable task! I came across Fitness Together and decided to try a different approach! I handed myself over to the professionals and began a programme designed to meet my needs, which would incorporate my lifestyle and work with me to achieve my desired goals.
I have achieved a higher level of fitness, I am stronger, leaner, healthier and much happier with myself as I have finally realised that "getting back into shape" is not an insurmountable task! I could not have done this without the support and guidance of the staff at Fitness Together. Thank you to all the staff for your help and encouragement and to Eoin whose interesting conversations and positive attitude to life was inspiring to me.
Michelle
---
Greg McConkey, Terenure
Given the hectic nature of life today, time was something that I found harder and harder to manage. I found it very frustrating being in the gym, either waiting for the CV machines to become available or for space in the weight area. I found that I couldn't follow my routine, in the order that I wanted, and when I was doing my routine, was I getting the most out it. Fitness Together had the expertise and the vast experience, to help me to attain my goals without wasting my time, I know that I am getting far more out of each and every session than I would on my own. I find the work outs challenging and fun, and has helped be achieve a balance in my life.
Greg McConkey
---
Mary O'Hagan, Charity Worker
I have been a member of many gyms previously but none have compared to Fitness Together. The staff are extremely friendly, punctual, encouraging and a joy to work with. The facilities are private, clean and not intimidating for anyone just starting out. It is not only weight and body fat that are a focus but overall cardiovascular fitness, flexibility and much more are also worked on; ensuring that within a few weeks you are feeling slimmer, fitter and better than you have in a long time. I had put on a lot of weight in a short period of time and felt that I had hit a wall. Niamh's enthusiasm and passion for her job made it a pleasure to get to get back into the gym again.
The workouts are varied, fun and challenging
The workouts are varied, fun and challenging but the staff are careful never to push you too hard. Within 3 months I had lost 6% bodyfat and had gone from never running to training for a half marathon and loving it. I highly recommend Fitness Together to everyone. Whether you are an experienced gym attendee who is stuck in a rut, or someone who despises the gym and needs extra encouragement to get their workout done. With the help of the Fitness Together team you are guaranteed to see results FAST!
Mary O'Hagan
---
Tim Griffiths, Managing Director
I have been going to fitness together for 2 years now and thoroughly enjoy my workout experience. The atmosphere is friendly and not intimidating, the staff are professional and seem to tune in to my energy levels and push me harder than I would push myself without going too far. The results are that I am fitter, stronger have more energy and generally feel better about myself. Bring on year three.
Tim Griffiths
---
Adrian O'Connor, Senior Advertising Executive
I feel compelled to write and thank you and your colleagues on the fantastic service you have introduced to Dublin. Not only have you improved my health and quality of life, you have changed my perspective on life in general and bettered my day to day moods. Niamh has been inspirational, and has shown tremendous patience while at the same time effectively managing my goals and expectations to a tee. To one and all down at fitness together in the MEWS, thank you very much!
Adrian O'Connor
---
Ciara, Dublin 6 Resident
It was a big decision and financial investment for me to join FT and I was quite nervous about taking this new direction and failing. After only a few weeks I felt great and could already feel my muscles begin to tone and my energy levels increase day by day. I found myself looking forward to my sessions at FT. FT provides a friendly and professional and most of all a highly motivating environment which focuses on YOUR fitness and health requirements. All of the FT staff are there to support you and ensure your continuous progression and improvement. This is where I failed miserably when I worked out alone in a gym. If you keep up your training sessions, incorporate a healthy diet and lifestyle you will definitely see results in no time at all. This is truly an investment in your health and happiness and you will certainly have no regrets, only that you did not discover FT sooner! I simply can't imagine reverting back to my old workout routine.
Please don't waste a minute longer - Try FT now. You're worth it!
Ciara
David Cahill, National Sales Manager, Irish TV

I've been training with Fitness Together for over a year now. My goal was to begin a fitness program to loose weight, gain core strength, maintain my bone density and increase flexibility. Of course turning 40 and wanting to look and feel my best is what really kicked me in gear! An added benefit of working out with Fitness Together is that they mix nutritional tips in with each work out. I always have a gentle voice talking to me through out the session saying… "Eat lots of small meals, drink lots of water, don't eat three hours before you go to bed, think twice before you drink alcohol, eat a healthy breakfast etc." A long-term fitness program comes with aches and pains and rehabilitation from time to time and the trainers at Fitness Together keep me moving through it all. Fitness Together gives me the best start to my day that I can think of!
David Cahill
Call us Today:
01-496 5829
---
Email:
---
Disclaimer: All the above are personal stories and it is important to understand results may vary from client to client depending on exercise, nutrition and lifestyle choices.
---